HBO keeps stocking the bar with "Game of Thrones"-themed alcohol—this time with scotch described as best served icy cold.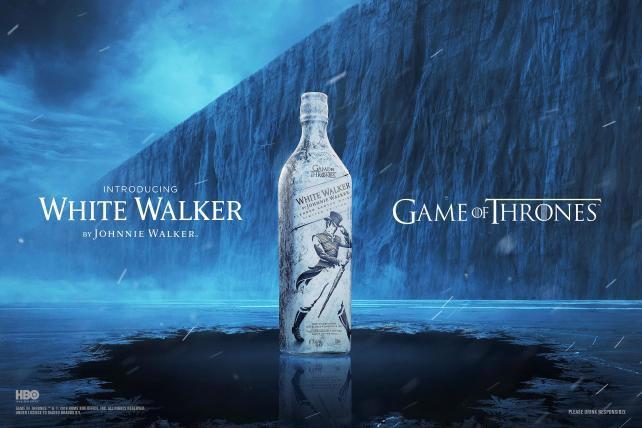 A special edition "White Walker" Johnnie Walker scotch pegged to the show's snowy undead will soon hit stores as result of a new deal between Diageo and HBO's licensing division, which has existing deals for "Game of Thrones" beers and wine. The suggested retail price is $36. Johnnie Walker's Black Label, one of its core varieties, sells for roughly $30 a bottle.
The bottles use temperature-sensitive ink to reveal the message "Winter is Here" on their labels when they reach freezing temperature. The brand's iconic striding man mascot is suited up in armor.
Johnnie Walker is planning eight additional "Game of Thrones" varieties, including seven that are named for each of the houses of Westeros and one named for the Night's Watch. "We knew there was fan appetite for a 'Game of Thrones' whisky and once we saw the vision from Johnnie Walker for a way to collaborate we knew the idea was perfect and the time was now," Jeff Peters, VP of HBO's licensing and retail unit, said in a statement. (The series' final season arrives in 2019, though HBO has ordered a pilot for a prequel.)
Read more at Ad Age: https://adage.com/creativity/work/johnnie-walker-game-thrones-scotch/951231