---
Taco Bell "CrunchWrapping Paper"
You can't really gift wrap a burrito and put it under the tree, but you can make that snazzy new sweater look like a taco with Taco Bell's new Crunchwrapping Paper ($4 CAD). Created by Toronto-based agency Grip Limited, it's three square feet of paper that looks like seasoned beef, nacho cheese sauce, crunchy tostada, tortilla, with lettuce, tomato, and sour cream. The downside? This one's only available on Amazon in Canada, where it's already hit best-seller status.
---
Burger King "The DOGPPER"
People buy everything from sweaters to sneakers for their dogs, so why not a Whopper? Well, primarily because it would wreck apocalyptic horror on Spot's gastrointestinal tract, not to mention your living room rug. (Also: See my point above about the fallacy of gift wrapping a burrito and putting it under the tree.) But fear not! Now Burger King has made a canine-friendly fast-food option with The Dogpper, "a bone-shaped treat with flame-grilled beef taste."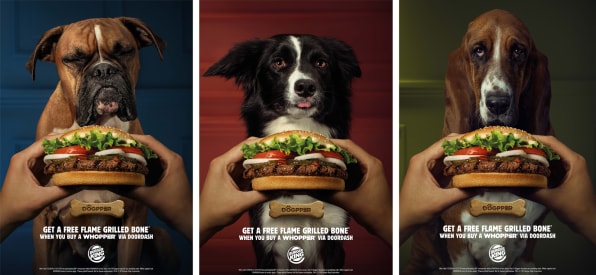 This one's available only until December 4, which means your dog will get the extra gift of knowing you were thoughtful enough to plan ahead for their holiday gift. But, on the downside, if your dog understands that, they'll also realize that you got the Dogpper available for free exclusively through DoorDash when you ordered a Whopper via its delivery service.
---
KFC "Human Made x Original Recipe"
This isn't KFC's first foray into swag, but its commitment to keeping a straight face while producing somewhat pricey streetwear is impressive. If last year's nearly sold-out collection taught us anything, it's that classic branding does have a fashion appeal. Here, the brand and its agency Wieden + Kennedy worked with Hypebeast and Japanese designer NIGO to create the line, which was available only at two pop-up shops in New York and Tokyo in November. If you want it now, chances are you'll have to roll the Kentucky fried dice on eBay, where T-shirts range from $80 to $200.
---
Starburst "All Pink Starburst Party"
Back in April, Starburst worked with agency DDB Chicago to launch an exclusive clothing line designed by past Project Runway champ Erin Robertson. It's very pink. Sadly, it appears the shop at youareapinkstarburst.com is all sold out, but I did spy a "You Are Pink Starburst" neon sign on eBay ($89) if you're up for adding some extra saccharine to your home's Griswoldian Xmas light ambitions.
---
Pizza Hut "PieTops II"
Last year Pizza Hut exploded sneakerhead minds with a shoe that could order pizza. Picture an old Reebok pump, but instead of putting the blood vessels of your foot into a death grip by hitting the button on the shoe's tongue, it ordered a pizza. WIZARDS. The 2018 version of Pie Tops (see what they did there?) not only orders the pizza but also features a button that pauses your TV while you answer the door to pay for that pizza. Are they worth $1,250? That depends on how much you want to impress your family by ordering dinner with your shoe and pausing The Crampus when the pizza arrives. Plus, they'd really take any Supreme Santa outfit to the next level.
As fun as all this winking is at capitalism–what says you're in on the joke more than a secondary market for your goof on advertising?– perhaps it's worth considering that we don't really need to add to what began as the ultimate novelty, but is starting to look dangerously like a trend that could, if not properly monitored and contained, spiral out of control until we're all wearing Scrubbing Bubbles T-shirts.
Plus, anyone who'd pay $450 for an empty KFC chicken bucket should definitely go on Santa's batsh*t insane list for sure, right?
from Fast Company: https://www.fastcompany.com/90272962/the-first-annual-2018-late-stage-capitalism-holiday-gift-guide